Dispersing Agent for Titanium Dioxide (TiO2), Iron Oxide, and Inorganic Pigment Dispersions
Borchi® Gen 1252 is a wetting and dispersing agent for titanium dioxide (TiO2), iron oxide, and other inorganic pigment dispersions in coatings. It provides higher inorganic pigment loading, better tint strength, and improved contrast ratios. This dispersing agent additive is an APEO- and VOC-free high molecular weight solution. It works well with varying particle sizes in inorganic pigments and fillers used in water- and solvent-based coating systems.
Borchi® Gen 1252  is especially known for being effective in dispersing TiO2 and iron oxide pigments. This results in stable dispersions with excellent color development.
Benefits of TiO2 Dispersants
TiO2 pigments are typically used in white coatings due to their bright, white opaque color. This color forms from their ability to scatter light. These pigments extend the life of a coating due to their strength and durability.
Using TiO2 pigments in formulations provides bright white colors and protective properties for coatings. However, it can be difficult for coatings to obtain the full effects of these pigments when they are dispersed without additives. Dispersants designed for TiO2 and inorganic pigments are one way to achieve effective dispersions.
Without assistance from dispersants and other additives, pigments may not settle properly. This results in weakened color, pigmentation, and protective properties. Borchi® Gen 1252 wetting and dispersing agent properly disperses inorganic pigments to enhance color and protective properties.
The reason this dispersing agent works well with TiO2 in particular is because it provides high tint strength and opacity, along with strong contrast ratios. These characteristics help bring out the best color possible in white pigments.
Improving TiO2 pigment viscosity and long-term dispersion stability can be done with the use of both dispersants and rheology additives. This will result in an even stronger white color in coatings.
TiO2 Dispersant and Rheology Modifier Additives
Long-term dispersion stability can be achieved when Borchi® Gen 1252 is used with our Borchi® Gel PN rheology modifier in water-based systems. Borchi® Gel PN achieves better viscosity stability than fumed silica for TiO2 dispersions. Benefits of formulations with these products include outstanding anti-settling properties, improved viscosity variance over time, extended heat age stability, no change in gloss or contrast ratio, high opacity, and strong tint strength.
75% TiO2
Based on formulation for 2-Week, 50 °C Stability Test that includes Borchi® Gen 1252, Borchi® Gel PN, and Borchers® AF 1171 additives for improved viscosity stability with TiO2 pigments
2-Week, 50 °C Stability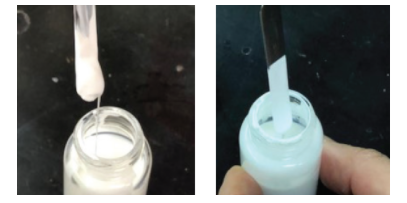 Control                                                               1252/PN             
Reduced settling and enhanced flow with Borchi® Gen 1252 TiO2 dispersant and Borchi® Gel PN rheology modifier in 75% TiO2 concentration
Benefits of Iron Oxide Dispersants
While used widely to effectively disperse TiO2 pigments, Borchi® Gen 1252 also has a strong affinity to opaque iron oxide pigments. These pigments are great for producing red, yellow, and brown colors. They are popular for being durable colors that do not easily fade or darken, making them ideal for exterior coatings exposed to sunlight. Proper iron oxide pigment dispersions with Borchi® Gen 1252 result in enhanced color and durability.
Applications
TiO2 applications include architectural, automotive, industrial, wood, and protective and marine coatings. Borchi® Gen 1252 can also be used in printing inks and adhesives.
As a dispersing agent for iron oxide, it is ideal in coatings for concrete, mortar, tile, wood, and stone applications.
Resources
Read our blog on Borchi® brand dispersants for more information on wetting and dispersing agents for inorganic pigments.
Physical Characteristics

Appearance

 

Liquid, colorless

 

Non-volatile content

 

100 %

 

pH

 

3 – 4 (aqueous solution 10 %)

 

Density

 

1.13 g/cm

3

, 23

 

°C

 

Viscosity

 

Max. 3,500 mPa.s

 

Solvent(s)

 

NA

 

Features

Titanium dioxide dispersant that provides high tint strength and contrast ratio
Strong affinity to iron oxide pigments resulting in stable dispersions with excellent color development
Over 70 % TiO2 and 60 % iron oxide pigment loadings are possible with free-flowing viscosities
Long-term dispersion stability can be achieved when combined with Borchi® Gel PN in water-based systems
High gloss

Applications

Coatings

Automotive
Industrial
Architectural
Wood
Protective and Marine

Dosage

Depending on the pigment grade, the recommended dosage is

TiO2: 2-3 %
Iron oxides: 5 %

The exact dosage should be experimentally determined through a ladder study. Borchi® Gen 1252 should be added to the mill base before adding the pigment. Neutralization is required when used in water-based systems as follows, Per 1-part Borchi® Gen 1252:

AMP-90®: 0.041
AMP-95®: 0.038
DMEA: 0.037
TEA: 0.041

Storage

Protect from the effects of weather and store at temperatures between 5 and 30 °C. At temperatures below 15 °C turbidity and flocculation may occur. This effect is reversible and does not influence the product efficiency, so warm up to room temperature and mix well before use. Once opened, containers should be resealed immediately after each removal of the product.

Safety

Please refer to our safety data sheet for information relating to product safety.
Registration :
For chemical inventory status, please review section 15 of the current SDS.
Click here to access the SDS portal.
For additional regulatory information, please contact [email protected].
Wetting and Dispersing Products