Wetting and Dispersing Agent for Enhanced Color Development in Organic Pigments / High Jetness in Carbon Black Pigments
Carbon black and organic pigments can be difficult-to-disperse in water-based formulations.  Borchi® Gen 0851 is a non-ionic wetting and dispersing agent, designed to efficiently achieve maximum color generation and high jetness in aqueous compositions. The dispersing agent is high molecular weight and VOC-free.
Benefits of Dispersants for Color Development in Coatings with Organic Pigments
Borchi® Gen 0851 provides improved grind times and lower viscosity dispersions. Compositions using this additive demonstrate better long-term viscosity and color stability. Higher transparency can also be achieved.
The molecular structure of this wetting and dispersing agent is engineered to maximize the interaction with the pigment surface, providing excellent water wetting of difficult to disperse, high surface area organic pigments. Optimized wetting will produce smaller particle size dispersions for pigments which improves viscosity and dispersion stability. Fully dispersed pigments result in better color strength for coatings and product color quality.
30% Pigment Concentrate
Stable Viscosity Indicates a Quality Dispersion
Benefits of Carbon Black Dispersants
Borchi® Gen 0851 is an excellent dispersant for carbon black pigments. This product has a strong attraction to adsorb on the hydrophobic carbon black surface converting the surface to water wet.  This improves the effectiveness of the dispersion or grinding process to create dispersions with high jetness.   The created dispersion is stabilized by strong electrostatic and steric surface forces from the adsorbed product, offering long-term color and product stability.
Similar Dispersants for Organic and Carbon Black Pigments
Other carbon black and organic pigment dispersants from Borchers include Borchi® Gen 0451. Unlike Borchi® Gen 0851, this dispersing agent works with organic and carbon black pigments in both water- and solvent-based coatings.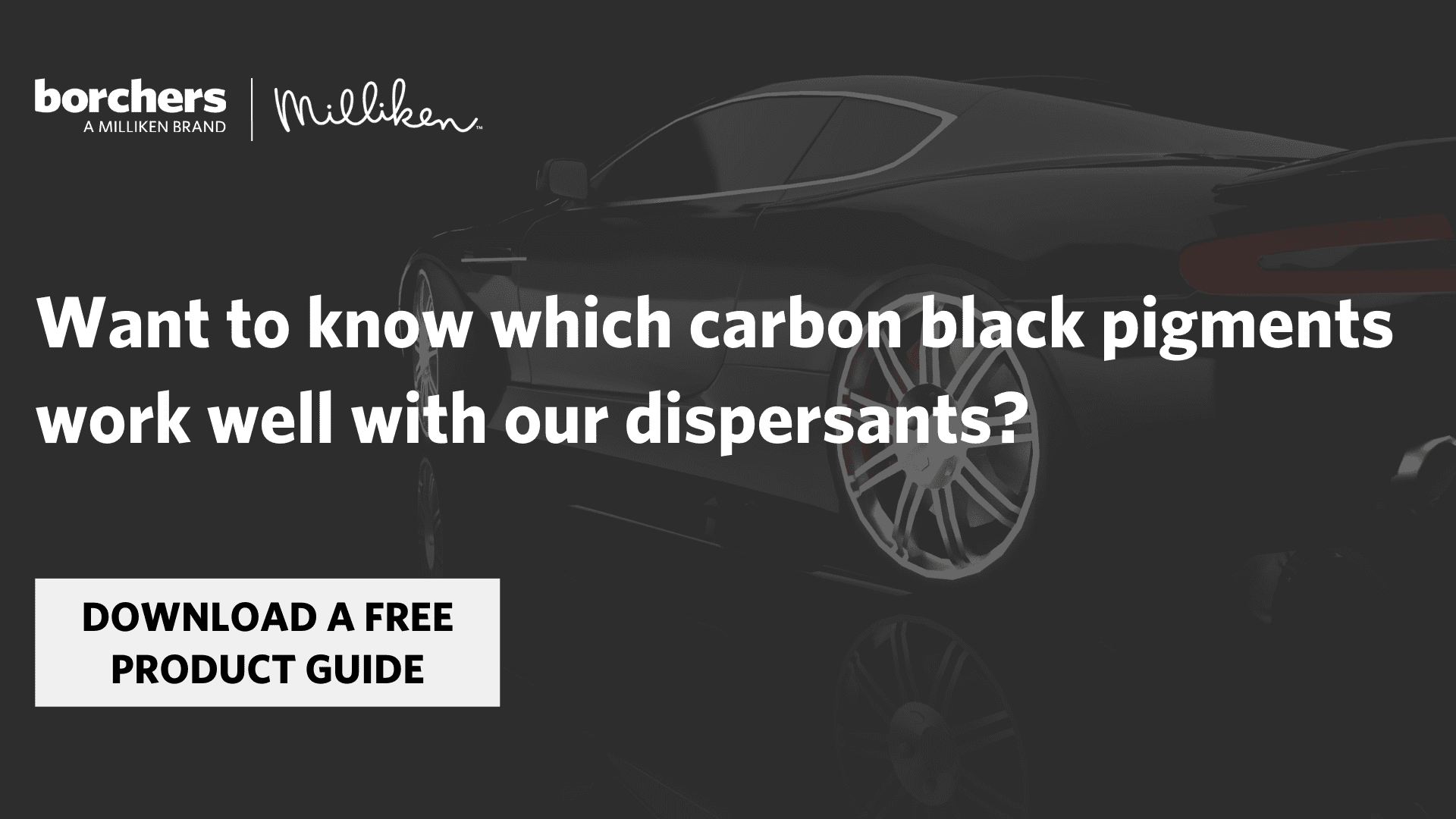 Borchi® Gen 1251 works well for difficult to disperse organic pigments in solvent-based systems.
Read our blog on Borchi® brand dispersants for more information on wetting and dispersing agents for organic and carbon black pigments.
Applications
Borchi® Gen 0851 dispersing agent for organic pigments and carbon black is popular in automotive, industrial, and protective and marine coatings. Our customers have also found it useful in decorative applications, as well as in printing inks.
Resources
Physical Characteristics

Appearance

 

Liquid, yellow

 

Non-volatile content

 

50 %

 

pH

 

7 – 9.5

 

Density

 

1.09 g/cm³ (20

 

°C)

 

Viscosity

 

Max. 1000 

mPa.s

 

Solvent(s)

 

Water

 

Features

Specifically designed for dispersing difficult organic pigments
Low viscosity dispersions
High transparency with organic pigments
High jetness with carbon black
Enhanced color development
Long-term dispersion stability
Compatible with a wide range of resin systems

Applications

Coatings

Automotive
Industrial
Protective and Marine
Decorative

Printing inks

Dosage

Depending on the pigment grade, the recommended dosage is  

Organic pigments: 

20

 

–

 

35 %

 

Medium black:

 40

 

–

 

50

 %

 

 

High 

jetness

 carbon black: 

70

 

–

 

100

 

% 

 

The exact dosage should be experimentally determined through a ladder study. Borchi® Gen 0851 should be added to the mill base before adding the pigment. 

Storage

Protect from the effects of weathering and light. Store at temperatures between 5 and 30 °C. Once opened, containers should be resealed immediately after each removal of the product.

Safety

Please refer to our safety data sheet for information relating to product safety.
Registration :
For chemical inventory status, please review section 15 of the current SDS.
Click here to access the SDS portal.
For additional regulatory information, please contact [email protected].
Wetting and Dispersing Products