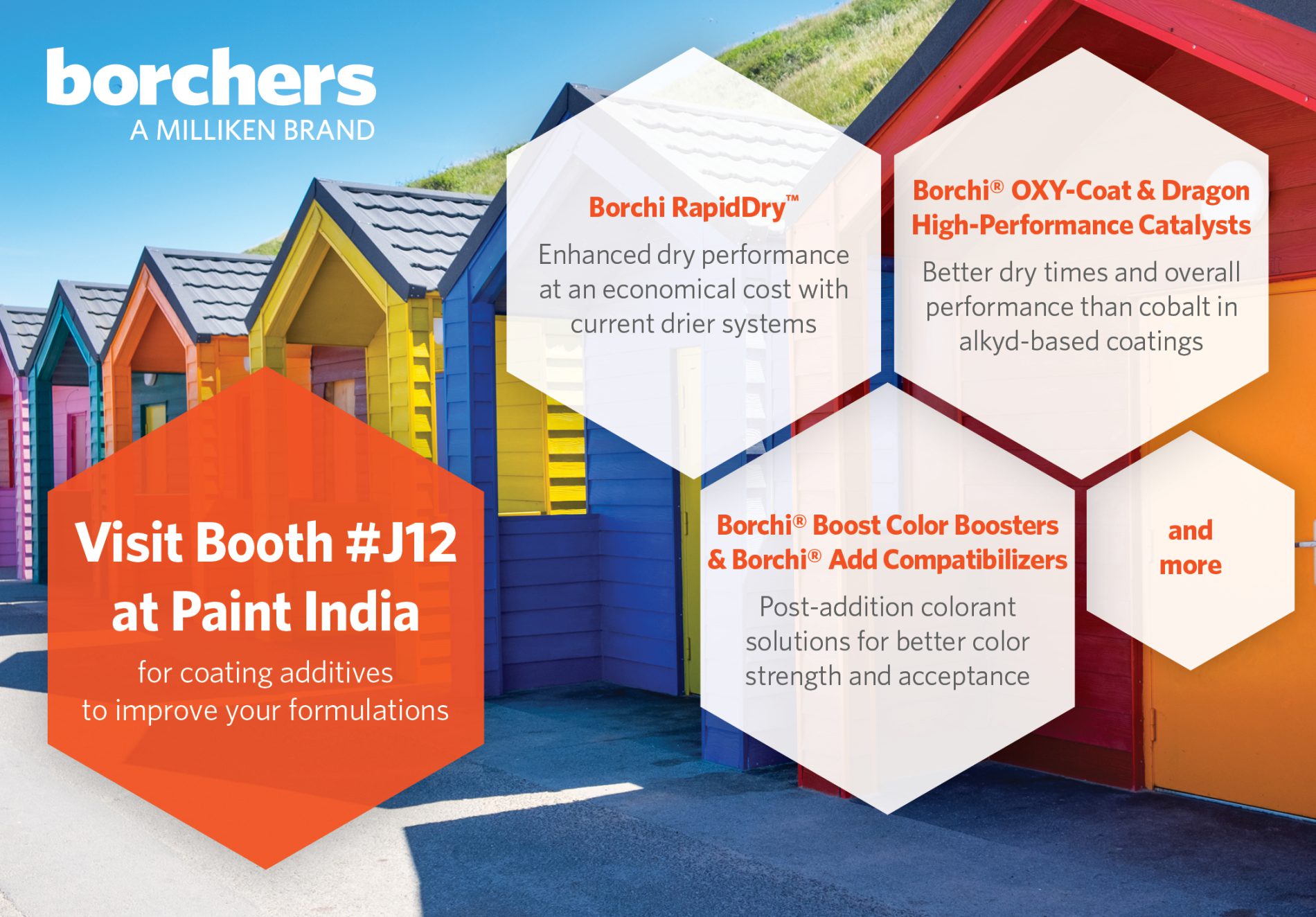 Borchers: A Milliken Brand, to showcase innovative drier and colorant-enhancing additive technologies at Paint India in Mumbai
May 6, 2022 | Events
The Borchers brand, part of Milliken & Company, is pleased to showcase its latest technologies in Booth J12 at the Paint India exhibition that will take place May 26-28th at the Jio World Convention Center.
Since its founding as a chemical business in 1807, Borchers has grown into a worldwide provider of performance additives for the coatings, inks and adhesives markets. Milliken acquired the company in 2020 and announced last August its rebranding to "Borchers: A Milliken Brand."
The Mumbai-based show will offer the first in-person opportunity for Borchers: A Milliken Brand to display some of its newest products and data for the Asian coatings market at this industry-leading event, which canceled its 2020 show due to the Covid-19 outbreak. Among the highlights are:
Borchi RapidDryTM—Check out this new drier additive that is designed to be used with current drier systems (cobalt, zirconium, calcium) to significantly improve dry times at an economical cost. Data packets will be available highlighting how this drier technology not only rapidly increases dry times but depending on the type of resin formulation it is used in, can also provide additional performance enhancements such as improved adverse drying, washability and non-yellowing.
Borchi® Boost color boosters & Borchi® Add compatibilizers—These post-addition colorant solutions allow colorants to work in all base chemistries, ultimately enhancing their strength and acceptance. Borchi® Boost improves color acceptance for ready-made dispersions and Borchi® Add enhances the compatibility of universal water-based concentrates in solvent-based alkyd base paints. In-booth test displays will demonstrate how these products improve color and remove rubout and paint defects in various coating systems.
Borchi® OXY-Coat & Borchi® Dragon high-performance catalysts—Discover how Borchi® high-performance catalysts enhance alkyd-based coatings beyond decreasing dry times when tested against competitive cobalt driers. Application displays will showcase how these technologies improve anti-corrosive, non-yellowing and non-wrinkling performance. Technical Service Manager Allison Musto will further discuss the performance features of this technology in architectural, wood and direct-to-metal coatings along with its sustainability benefits in her technical conference presentation on May 26th from 1:30-2:00 PM on level 1 of the convention center.
Customers and anyone seeking knowledge on coating additives are invited to stop by Booth J12 to meet company representatives and officials who can provide more information on how these technologies can help your business.