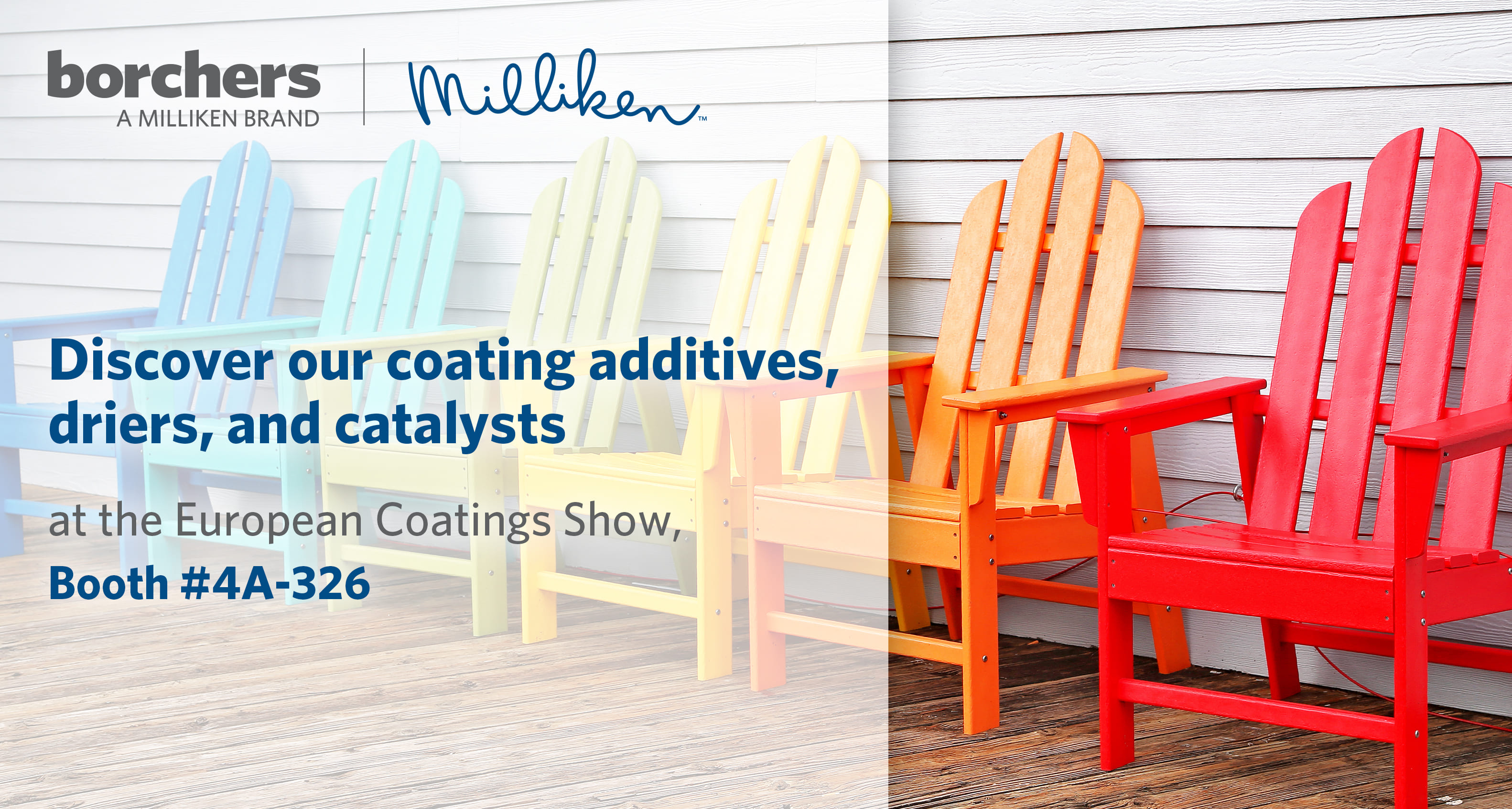 Borchers: A Milliken Brand to Exhibit at European Coatings Show
February 24, 2023 | Events
Milliken's full range of innovative coating and drier additives on display 28-30 March
Global manufacturing leader Milliken & Company will attend the European Coatings Show (ECS) 28-30 March in Nuremberg, Germany, highlighting its leading portfolio of coating additives and driers under its Borchers: A Milliken Brand name. Milliken acquired Borchers in 2020 to enhance its ability to serve a spectrum of end markets and applications with innovative chemistry with a purpose.
As a part of Milliken, the Borchers brand is uniquely positioned to help formulators meet increasingly stringent environmental regulations and specific customer and market needs while exceeding the performance capabilities customers expect of Borchers. Attendees can learn more in booth #4A-326
A Sneak Peek into Show Highlights 
In keeping with Milliken's commitment to meaningful innovation and responsible manufacturing, Borchers brand additives help make the world safer, brighter and more convenient. At ECS, Borchi® OXY-Coat, Borchi® Dragon, and Borchi® Gel PN and Borchi® Gel NA are core products highlighted throughout the booth that illustrate the best of what the coating brand can offer.
With an eye toward future regulatory standards, high-performance catalysts (HPCs), like Borchi® OXY-Coat and Borchi® Dragon, were developed as cobalt-free drying additive solutions. These additives future-proof alkyd paints from potential cobalt regulatory requirements in coatings, while decreasing dry times and enhancing other performance attributes. The benefits of HPCs include heightened non-yellowing performance compared to conventional paint driers, enhanced wrinkling prevention and chemical resistance in wood applications, and better corrosion resistance and adhesion in industrial applications. In addition to seeing these benefits on displays throughout the booth there will also be several presentations taking place during the show:
Neil Simpson, Director of Research and Development, will present "The Influence of Driers on Crosslinking, Kinetics, and the Performance of Alkyd Coatings" on 27 March from 10:00-10:30 in the Kiew room during the technical conference
Dietmar Helker, Co-Supplier Manager and Technical Service Chemist, will present "No Need to Sacrifice Performance When Formulating Sustainable Wood Coatings with High-Performance Catalysts " on 29 March from 10:10-10:30 at booth #3A-607 during the show
Obtaining the correct low-shear viscosity in waterborne coatings is critical for optimized coating performance. Borchi® Gel PN and Borchi® Gel NA excel where other thickener chemistries cannot by providing strong low-shear viscosity and preventing syneresis caused by colorants or poor paint stability. These easy-to-use, post-addition products allow for streamlined incorporation and formulation flexibility.
Allison Musto, Technical Service Manager, will present on "Solving Syneresis with Unique Low Shear Rheology Modifier Technology" on 28 March from 14:10-14:30 at booth #3A-607 during the show.
Partners in Excellence and Sustainability
Throughout ECS, attendees can experience Borchers' leading portfolio of coating additives and driers. In addition, Milliken will also share how sustainability guides the company's work as a whole. Building on its 2025 Sustainability Goals surrounding its interactions with the planet, its products and its people, Milliken recently shared its pathway toward achieving a net-zero future. Milliken announced its science-based net-zero targets that were approved by the Science Based Targets initiative (SBTi), which positions the company as a key sustainability partner for its customers. Milliken also achieved a gold rating on its 2022 EcoVadis assessment, further illustrating the company's strong commitment to operational sustainability.
Visit booth #4A-326 to learn more.