4 Benefits of Using High-Performance Catalysts in Direct-to-Metal Alkyd Paint
January 4, 2021 | Blog
For almost 100 years, alkyd resins have been used in architectural, wood, and industrial coatings. Paint consumers choose alkyd coatings because of their ability to provide glossy, hard finishes and enhanced durability.
Despite their benefits, historical alkyd coatings present several flaws. These include wrinkling, slow dry times, high Volatile Organic Compound (VOC) content, and yellowing.
Within the last decade, research has emerged in the coatings industry that focuses on improving performance and sustainability in alkyd coatings. One result of this research has been the development of cobalt-free high-performance paint catalysts to replace traditional cobalt driers in alkyd coating formulations.
A few benefits of high-performance catalysts include improved dry times, non-yellowing, better adhesion, formulation complexity reduction, and the prevention of wrinkling in thick film builds.
Although high-performance catalysts can be used for various end uses, many of their benefits are important for industrial and protective coatings used on metal.
What do high-performance paint catalysts offer for direct-to-metal (DTM) coatings in particular?
Improved Adhesion
Good adhesion properties in coatings enhance protection for substrates. Unfortunately, adhesion to substrates is difficult to achieve in DTM coatings. High-performance catalysts like Borchi® OXY-Coat and Borchi Dragon provide better adhesion in DTM high-performance alkyd coatings compared to cobalt and other metal carboxylate driers. Improved adhesion is a result of better crosslinking of the coating at the substrate, which provides enhanced wet adhesion performance.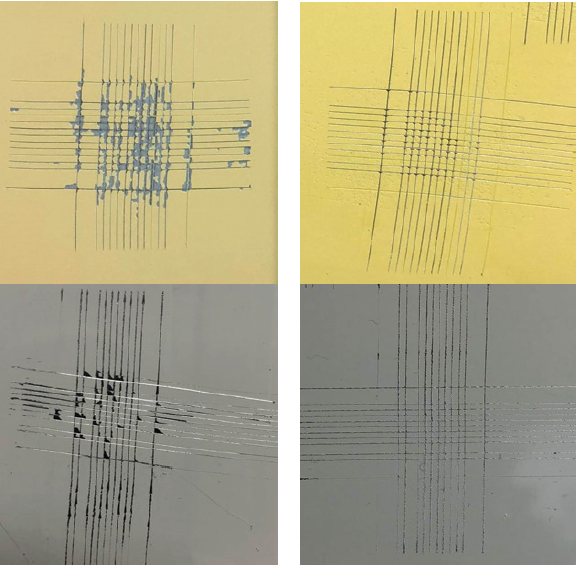 Cobalt Drier                    Borchi OXY-Coat
High-performance paint catalysts like Borchi OXY-Coat provide better crosslinking through the coating compared to cobalt driers. Borchi OXY-Coat solutions work in short, medium, and long oil alkyd coatings

    Cobalt Drier                                                                 Borchi Dragon
Borchi Dragon high-performance catalyst provides improved wet adhesion to metal in high gloss black paint compared to cobalt driers. Borchi Dragon works well in high solids, long oil alkyd coatings
Stable Dry Times in Adverse Conditions
Fast dry times are a key value of high-performance catalysts. However, not all catalysts allow for the application of coatings under adverse weather conditions. Paint catalysts like Borchi OXY-Coat and Borchi Dragon provide the ability for industrial and protective alkyd coatings to be used in more weather conditions than coatings containing traditional driers without negatively impacting dry times in low temperature and high humidity weather or causing wrinkling due to over-application in hot weather. This in turn makes alkyd DTM coatings with high-performance catalysts the first series of truly all-season alkyd paints.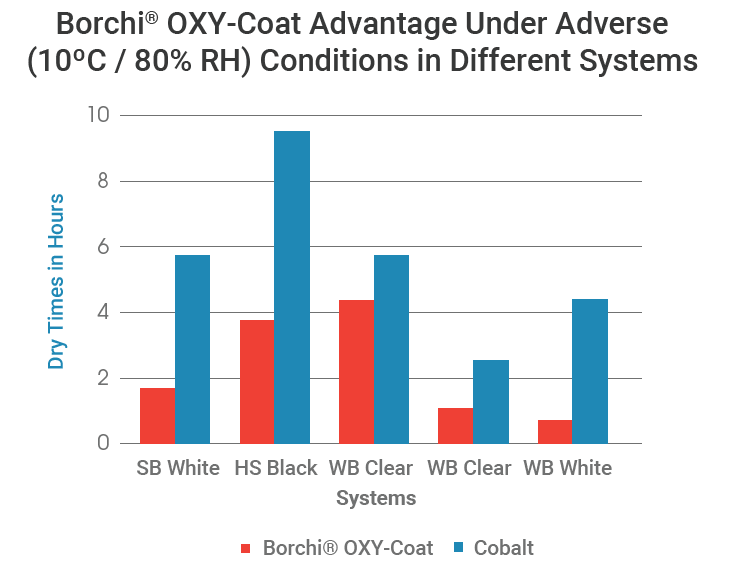 Borchi OXY-Coat driers provide faster dry times than cobalt carboxylate driers in adverse weather conditions for a variety of alkyd resin systems
Borchi Dragon reduces dry times in both standard and adverse conditions in high gloss alkyd coatings compared to cobalt carboxylate alternatives
Increased Corrosion Resistance
Utilizing high-performance catalysts provides corrosion protection in industrial and protective metal coating products applied to steel structures and industrial equipment. This ensures the enhancement of exterior durability and improvement in the corrosion class of coatings.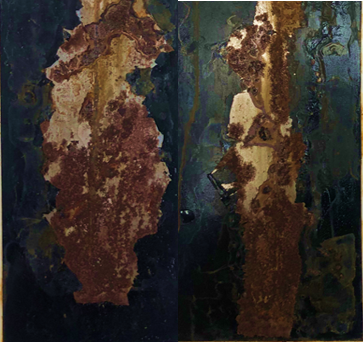 Cobalt Drier                            Borchi Dragon
300 hours NSS
Borchi Dragon provides better scribe creep and reduced delamination in high solids, long oil alkyd coatings compared to cobalt driers
Enhanced Sustainability
While Borchi OXY-Coat and Borchi Dragon provide many performance benefits in alkyd DTM coatings, increasing regulatory pressures surrounding cobalt driers have also influenced formulators' decision to switch to these cobalt-free high-performance catalysts. According to The Cobalt Institute, the sustainability of cobalt driers in paint remains in question by regulatory agencies worldwide, including the European Chemicals Agency.
High-performance catalysts can further meet regulatory requirements by allowing for lower VOCs in alkyd paint formulations. VOCs have been known to reduce sustainability in paints.
How Do You Choose the Right High-Performance Catalyst?
In order to reap all the benefits of high-performance paint catalysts in your DTM coatings, you must choose the correct catalysts for your systems. Borchers offers Borchi OXY-Coat and Borchi Dragon catalysts for use in solvent- and water-based coatings:
Click on the above photo to explore all our options.
For more information on our catalysts, please contact our technical service team at [email protected]
For samples or technical data sheets, please contact [email protected] (Americas) or [email protected] (Europe, Asia, Rest of World)