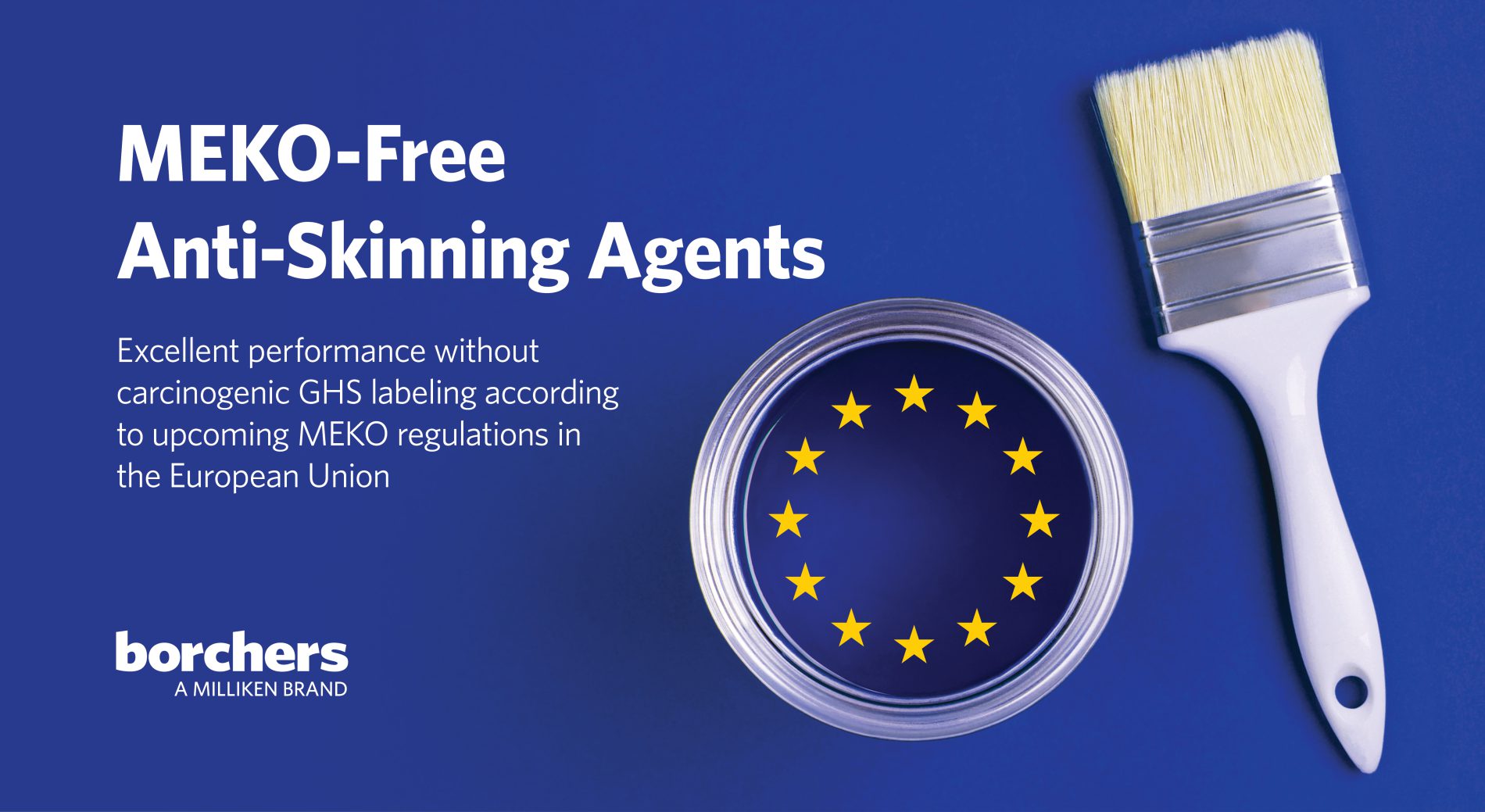 How to Avoid Upcoming MEKO Carcinogen GHS Labeling Requirements in the European Union and Reformulate Smarter
January 31, 2022 | Blog
The European Union (EU) is enacting stricter Methyl Ethyl Ketoxime (MEKO) regulatory requirements beginning on March 1st, 2022. From this date forward, MEKO will be classified as a Carcinogen Category 1B and cannot be utilized in any formulation which meets or exceeds the concentration limits of ≥ 0.1% without Carcinogenic GHS Classification, Labeling, and Packaging (CLP) compliance.
What does this mean for coating formulators?
MEKO is commonly used as an anti-skinning agent in alkyd paints, often at addition levels greater than 0.1%.  Many formulators are now faced with the choice to add carcinogenic GHS labeling to their current products or to remove MEKO completely.  Reformulation is not as simple as taking MEKO out of the product.  To prevent in-can skinning, another anti-skinning agent will need to be evaluated to match the performance of MEKO for anti-skinning properties, dry time, and more.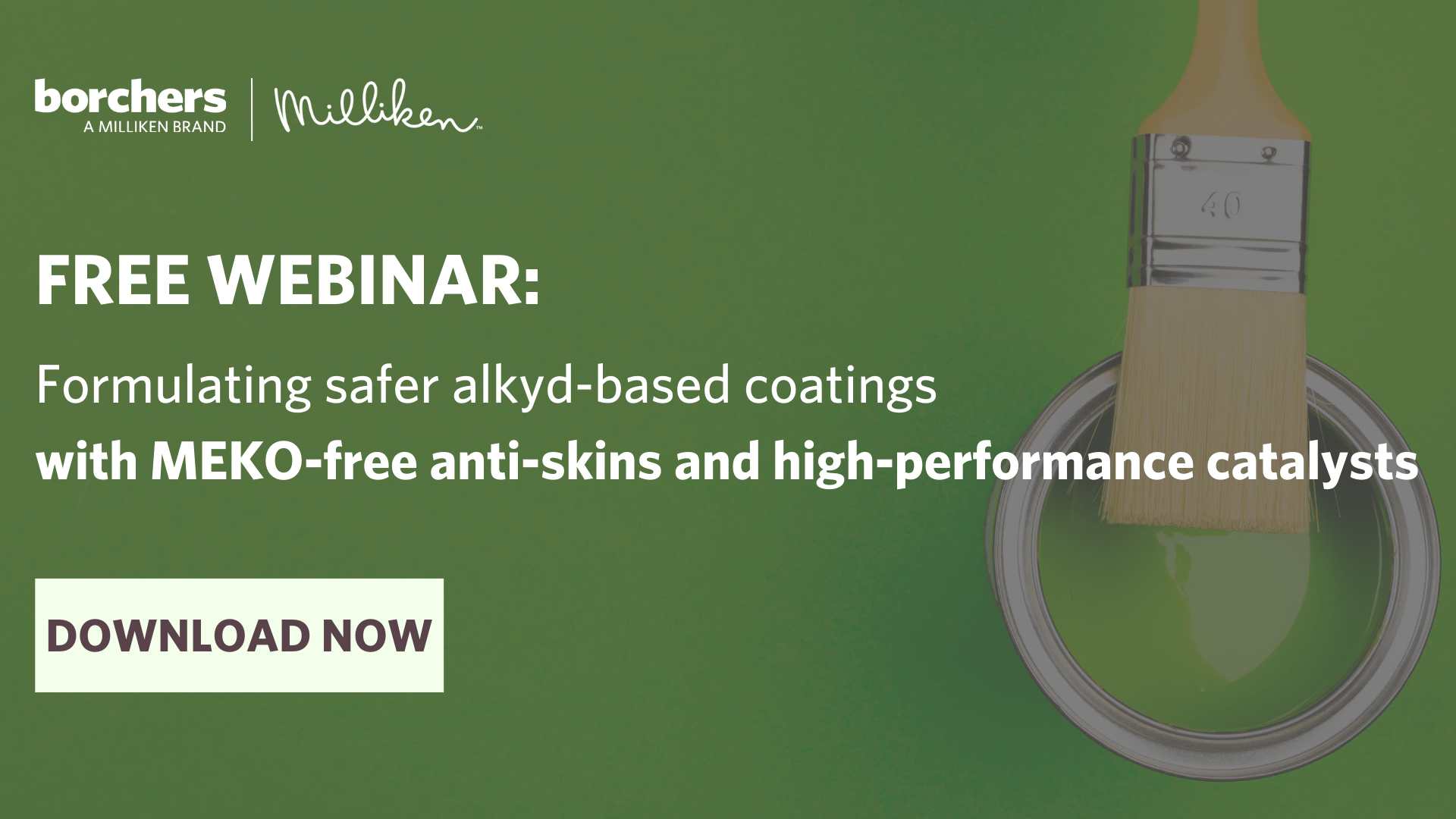 Replacing MEKO without sacrificing performance
Borchers offers multiple MEKO-free anti-skinning agents including Ascinin® 0444, Ascinin® 0445, Ascinin® 1240, Borchi® Nox 1640, and Borchi® Shield.  These products improve the storage stability of various coating systems by preventing skin formation on the surface of the coating while still in the container.  Other benefits include the ability to keep the film open longer to ensure deeper penetration of oxygen (which promotes through drying) and minimal effects on dry times. Borchers' anti-skinning agent line also includes oxime-free products (Ascinin® 0444, Ascinin® 0445, and Ascinin® 1240). These solutions provide more stability in paints that are often open. When a can is opened and closed, a volatile anti-skinning agent is lost over time, and storage stability is reduced. Ascinin® oxime-free products are found in the coating and do not act as volatile barriers on the surface like MEKO.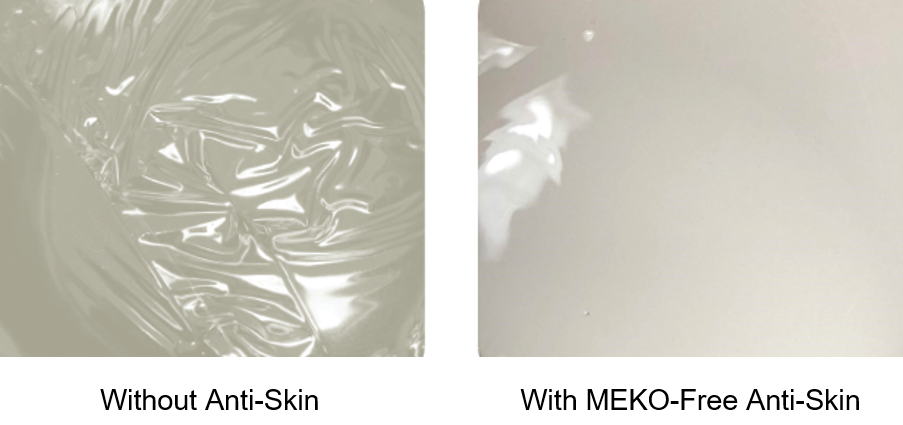 A Smarter Reformulation Process
Before directly replacing MEKO in a traditional alkyd formulation containing a cobalt drier, formulators should also acknowledge the potential of future cobalt regulatory directives.  The continued risk assessment on cobalt and its compounds by European Authorities may see more reclassification with new stringent paint and coating label requirements.  Some cobalt-containing compounds have already been classified as carcinogenic and toxic to reproduction. Others are under consideration to be classified as 1B carcinogens by no later than 2023.
Occupational Exposure Limits (OEL) for cobalt may also face strict changes. While the industry has proposed an OEL of 0.1 µg/kg, EU Authorities are expected to propose an even lower limit that could further intensify cobalt challenges. This new OEL threshold limit is expected to come into effect by 2023.  These considerations also include possible use concentration limits to be set by the EU for both MEKO and cobalt compounds.
Formulators should recognize these potential regulatory requirements while they are testing to remove MEKO from alkyd formulations so they can also test to exchange cobalt driers. This will prevent future reformulation if further cobalt directives are implemented.
Borchi® OXY-Coat and Borchi® Dragon high-performance catalyst product lines are cobalt-free driers that replace conventional cobalt driers while enhancing paint performance.  Borchi® high-performance catalysts have proven to significantly decrease dry times, reduce or eliminate yellowing in white formulations, help prevent wrinkling in thick film applications, and much more.  These products are REACH compliant, globally registered, APEO-free, VOC-free (in waterborne systems), and reduce the need for through driers based on their patented organometallic ligand technology.
For more information on why you should consider both MEKO and cobalt replacement at the same time, check out, A Guide for EU MEKO Compliance and 'Future-Proofing' Alkyds, our article published in the July 2021 issue of Surface Coatings International. You can also watch, How to Formulate MEKO-free Sustainable Alkyds, our short webinar hosted by SpecialChem.
Contact [email protected] (Europe) or [email protected] (Americas) for help with finding the solutions that best fit your needs.